Bright Moments is proud to present NFT ART CDMX: a 7-day celebration of generative art in the heart of Mexico City from November 14 - 21.
Nocturnal minting of 3,000+ on-chain generative artworks, a celebration of death and the afterlife, memento mori

An exhibition of contemporary Mexican NFT art

Daytime educational programming focused on onboarding local and emerging artists into generative art via hands-on workshops

Talks and intimate sessions with artists and collectors shaping the future of generative art

Local cuisine banquets for guests and minters
NFT ART CDMX will feature several opportunities for IRL minting, including:
CryptoMexas
CryptoMexas are the 6th edition of our ongoing generative pixel portrait collection - one that is creating an iconic story spanning ten cities and cultures around the world. The collection of 10,000 on-chain generative CryptoCitizens will become one of the most enduring, historical series of NFTs, and Crypto Mexas will represent 10% of the final collection.
To mint a CryptoMexa, you must hold a Golden Token Mexico City, or receive an on-chain minting reservation via airdrop or community nomination. Learn more about our CryptoCitizen community distribution here.
The Mexico City Collection
The Mexico City Collection includes 10 artists who will each release a series of 100 generative artworks minted during the event. Each artwork will be represented on-chain and paired with unique, immersive exhibitions created for each collector to leave with an unforgettable memory associated with their mint. Mint Pass holders will be able to mint artwork from the Mexico City collection.
Today, we're revealing the full Mexico City artist lineup.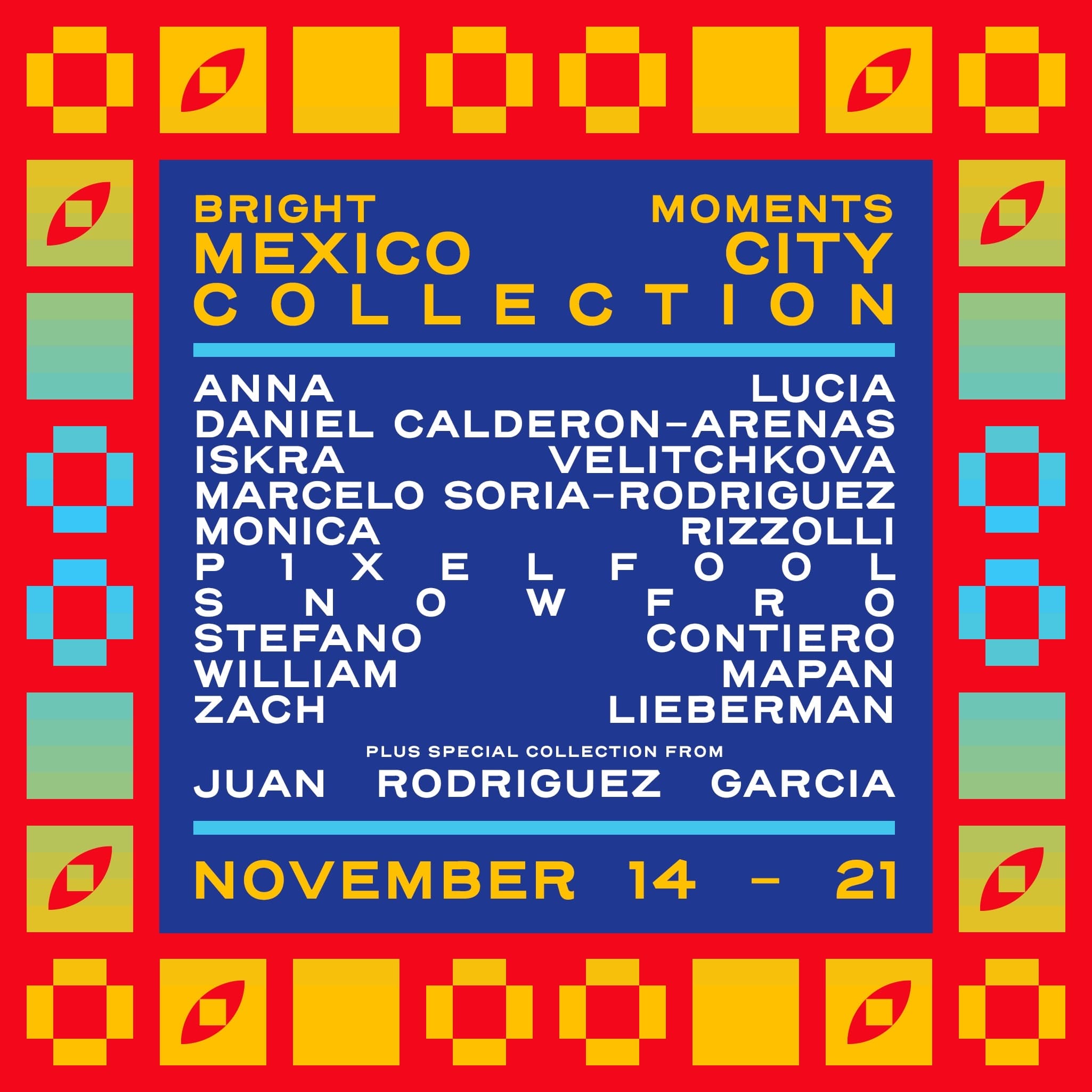 Special Collection
In addition to the Mexico City Collection, we're working with local artist Juan Rodríguez García (@_juanrg) to produce a collection of 1,000 generative mints.
Each Mexico City Collection mint pass holder will be able to claim a free mint from the Special Collection. The claim date is TBA but will be available following the artist reveal for the Mexico City Collection. We are very excited about this one.
How to Participate
Mexico City Collection Sale
What: 417 Mint Passes & 10 Mint Packs

Where: Bright Moments marketplace

When: September 16th at 10a PT

How: Dutch auction token-gated by CryptoCitizen & GTMX with a rebate for Mint Pass buyers at the clearing price. Snapshot took place on September 15 at 22:00 PT.
Stay Up To Date
Follow @brtmoments on Twitter and join our Discord to stay up to date on the latest announcements.
Follow the Mexico City Collection artists on Twitter to learn more about their creative process and early outputs from their projects:
Anna Lucia - @annaluciacodes
Daniel Calderon - @DaCaldera
Iskra Velitchkova - @pointline_
Juan Rodríguez García - @_juanrg92
Marcelo Soria-Rodriguez - @msoriaro
Monica Rizzolli - @monicarizzolli
P1xelfool - @p1xelfool
Snowfro - @artonblockchain
Stefano Contiero - @stefan_contiero
William Mapan - @williammapan
Zach Lieberman - @zachlieberman